This forces Digital Atmosphere to use one of two font modes when creating station plots and contour labels:
Truetype - This includes all regular fonts on the user's computer. The exact font is obtained from the Preferences > Styles setting tied to the workchart in use, and may be modified to use a wide variety of font names and sizes.
NCEP/NMC Raster - This is a special set of fonts that we extracted from NCEP weather software source code. This font dates back to at least 1968, and can give a more professional look to certain charts.
The NCEP raster fonts (called "raster" because they are not scalable like most Windows fonts) are stored in several key files as described below. They were used on NMC (National Meteorological Center) charts from the 1960s and are still in use today in certain National Center for Environmental Prediction products. They are stored in BMP format, so users may edit them as needed. These were extracted from NCEP source code dating to the late 1960s and may very well be some of the oldest computer fonts in use anywhere.
font.006:


font.009:


font.012:

font.014:


font.018:

font.0hl:


font.0wx:

font.nwx: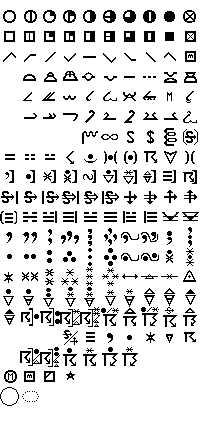 Additional settings for contouring may be found in Preferences > Analysis > Isopleths.