A shapefile is a universal map format developed by ESRI. It is designed to store nontopological geometry and attribute information for the spatial features in a map dataset. These consist of points, lines, and polygons. Used with Digital Atmosphere, it gives you complete flexibility to develop basemaps that are designed by yourself or a third-party source. You can use it to display customized boundaries for important land areas and forecast regions.
To import a shapefile, click on Map > Import shapefile . A file explorer dialog will open, allowing you to navigate to the shapefile that you want to use. The shapefile will be overlaid on the existing map. It will not replace your current map. If you want to eliminate the existing Digital Atmosphere map, use Map > Blank Map before using this command.
Be aware that the data from a shapefile is treated as an overlay. To use it as a permanent graphic in your workcharts, you must use Map > Copy Markings Onto Basemap after displaying it.
Shapefile attribute selection
If an attribute (*.dbf) file was paired with your shapefile, you will see a popup screen that looks like this: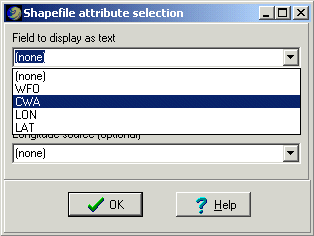 The meanings are as follows:
Field to display as text - This dialog allows you to select a text field of each feature (such as a forecast office name, etc) to be displayed as text. Select which field you want displayed. To ignore this (such as if you're just drawing boundaries), just leave all fields set to none.
Longitude source - You may also select an optional latitude/longitude source, if the data explicitly contains a Latitude and Longitude field (not all of them do). If you are certain that there is a Latitude / Longitude field in the dataset, you may choose them. Otherwise leave them set to "none" and the text will be displayed either on the last point plotted or in the middle of the polygon or polyline bounding region.
If you don't want to pick an attribute every time you display a shapefile, you may delete or rename the associated *.dbf file so that it is not detected.

A shapefile only holds one feature class of data. It cannot, for example, hold county outlines and city outlines as separate entities.

You do not need to have *.dbf and *.shx (attribute) files to use a shapefile; you only need the *.shp file.

Shapefile creation is not a simple task but may be accomplished in programs like ArcView, MapObjects, MapMaker, and Manifold.

To delete the existing Digital Atmosphere basemap, use Map > Blank Map before importing a shapefile. Otherwise the shapefile will be painted on top of the map.

Digital Atmosphere does not export shapefiles at all.

Be careful using street-level data, as Digital Atmosphere is not designed for extremely tight zooms. Digital Atmosphere is not a street-level mapping system.
IMPORTANT NOTES
A lot of money is floating around in GIS (geographical information systems) technologies, and there seems to be very little interest in the free exchange of shapefiles. Therefore don't be surprised if you can't find a shapefile or if you see prices that will break your budget. On the other hand there are a good number of free shapefiles around, especially for odd regions, but you may have to scavenge government and private websites to find them.
We cannot help you find shapefiles. However some possible sources include:
http://www.manifold.net/download/freemaps.html
http://www.nws.noaa.gov/geodata/
http://data.geocomm.com/catalog/index.html ($)
Also use search engines like Google to search for "GIS data" for your area. Look in government city, transportation, and planning web pages. Some forward-thinking cities such as Austin offer their data publically (see ftp://issweb.ci.austin.tx.us/pub/coa_gis.html for an example), but extremely localized shapefiles such as these may be too small of a scale to be useful with weather data. Also note that due to post-2001 paranoia, some local governments in the U.S. have withdrawn GIS data.