PREFERENCES PANEL
Maps tab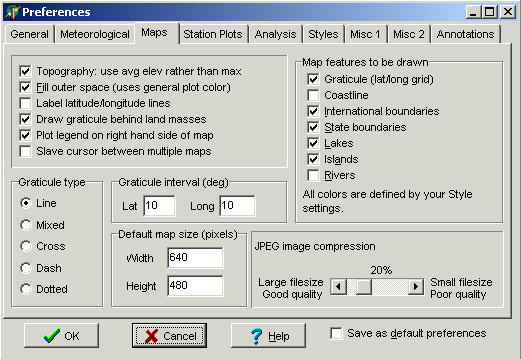 Note: Make coastlines double wide is a setting that has been moved to Styles in Digital Atmosphere versions after 2002.
GENERAL PREFERENCES
Topography: use avg elev rather than max - This controls what source of data is used when you select Map > Make Topography. When it is checked, average elevation data is used. When it is unchecked, the maximum elevation data is used.
Fill outer space
- When the map is zoomed out to where you can see the disc of the Earth, the area outside the disc (the outer space area) will be filled with the general plot color if this option is selected.
Label graticule
- When this is checked, and the "Map Features To Be Drawn > Graticule" is checked, latitude/longitude labels will be placed around the borders of the map. The style used will be the "lat" (Lat/long graticule) in Preferences > Styles; the font name and size will be obtained from this line.
Draw graticule behind land masses - Forces graticule to appear behind continental landmasses. This is useful if the graticule is only wanted in the ocean areas.
Plot legend on right hand side of map - Forces the legend to the right-hand side of the map.
Slave cursor between multiple maps - This is most useful if the workcharts are tiled, and is especially useful for viewing multiple types of radar products.
JPEG IMAGE COMPRESSION
If you choose Map, Export and choose JPEG as an image type, the image will be compressed according to the settings you specify here. JPEG is a lossy compression scheme, which means that higher compression values result in degradation of the image. As the user, you select the tradeoff that you think is most acceptable. For a typical 640 x 480 image, a setting of 0% (loose) will result in a high-quality image with a filesize of 225K. A setting of 100% (tight) will result in a very coarse image with a filesize of 11K.
GRATICULE TYPE
Digital Atmosphere can overlay a latitude/longitude grid, and here you can control how it will be displayed. You will see the lat/long grids only if the "lat/long grids" setting in the "map element table" is checked and only when you re-generate a new map. Note that the grid interval is controlled by the "grid interval" setting and the color is controlled by the grid color listed in the "map element settings" color table.
* Line. Plots latitude/longitude as a series of lines.
* Mixed. Same as "line" above, but also adds dots for every integer degree of latitude and longitude. The size and interval of the dots is fixed and cannot be controlled.
* Cross. Plots a cross at each latitude/longitude intersection.
* Dash. Plots latitude/longitude as a series of dashed lines.
* Dotted. Plots latitude/longitude as a series of dotted lines.
GRATICULE INTERVAL
If a latitude/longitude map is plotted, this value controls what interval will be used (in degrees) to plot the grid. A value of 1, 5, 10, or 15 should normally be used. So that the grid wraps uniformly around the globe, the value you select should divide evenly into 360.
DEFAULT MAP SIZE
When you use quick mapmaking commands such as Generate Map on the speed button toolbar, this determines what the map size will be in pixels.
MAP FEATURES TO BE DRAWN
Use this table to set which geographical features you want displayed and in what color. Remember that these will not take effect until the next time you generate a map.