We stayed at the Gateway Motel until just before checkout time so that we could do laundry. I also called the ferry company, who informed us that we could choose to sail Haines to Prince Rupert leaving tonight at 9:30 am rather than Wednesday morning at 4:30 am. This was a perfect opportunity, as we were starting to get a bit weary and anxious about the drive home. The new arrival time of early Wednesday morning would also give us a full day's driving. We opted to make the schedule change.
We were then on the road to Haines, Alaska by 11:15 am. The drive was only 150 miles but took us through some unexpectedly beautiful mountain passes and even a couple of small glaciers. American customs was a breeze, much friendlier than I had expected, and took about 15 seconds. We passed a 10-mile zone of construction between the border and Haines, but fortunately it looked like nothing was going on, thus no delays.
We arrived in Haines at about 1 pm (ADT, clocks go back an hour again). We had lunch at the small Wild Strawberry Cafe, a trendy sandwich + deli shop. We then bought 12 bottles of Alaskan Oatmeal Stout to take with us. We looked around the town briefly, which was very touristy and gave Shannon bad vibes of upper-middle-class decadance, similar to other towns she grew up in in Connecticut. We looked at the beaches, the ferry area, and Chilkoot Lake, a beautiful area which was peppered with bear warning signs and "no snagging" signs (snagging is hooking a fish anywhere except the mouth). The ferry port was hardly busy, however there was a lot of sitting around in the vehicle lanes until it was time to board. This was because we had gotten there early, plus forgot to set our clocks back. We spent the time reading.
Finally our ship, the M.V. Matanuska, arrived from its brief stop in Skagway and soon it was time to board. We drove our car down a ramp onto the ship, parked in its cavernous vehicle deck, and took our stuff up to our cabin. Although we could only reserve a 2-berth inside cabin with bathroom, I talked to the purser and thanks to no-shows got a roomy 3-berth cabin with an starboard window, a bathroom, and a shower. Fantastic! We were impressed with the layout of the ship, the efficiency of the staff, and the space. I would estimate the ship was running at only about 40% capacity, so I hardly doubt the ship would have been enjoyable with a full load of tourists.
We "set sail" at 9:30 pm, with the orange sun hanging low over a snowcapped mountain range. Shannon and I sat on the stern deck of the ship looking at the incredible scenery. After about ten minutes of braving the cool temperatures (40s with the 20 mph wind) we retired to our cabin, settled in, and were were asleep by 11 pm.

Miles driven today: 180
Business ratings (0-4 stars): Strawberry Cafe, Haines AK * * *
Alaska Marine Highway, S.S. Matanuska * * * 1/2



< Back
Main Page
Forward >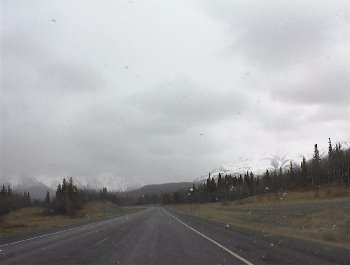 Klukshu, YT -- cloudy, drizzly weather dampens our short trip to the port town of Haines.

In BC north of Haines -- a 30-mile segment through British Columbia took us through some spectacular glacier fields. Thankfully the weather was beginning to improve.

Haines, AK -- the M.V. Matanuska sets sail for Skagway, 20 miles away. It would return later in the evening and take us on our journey southward.

Chilkoot Lake, AK -- we whiled away the afternoon looking around Chilkoot Lake. These bear notices were prominently posted throughout the park.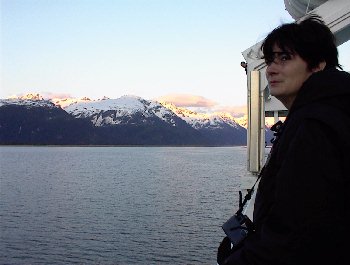 Haines, AK -- our ship pushes out of port just before 10 pm, giving us breathtaking views of the snowcapped peaks surrounding the waters.

South of Haines, AK -- folks who didn't want to brave the 45-degree temperatures and wind usually took in the scenery from the M.V. Matanuska's observation deck.