Both of us awoke around 3:15 am ADT to the ship being tossed left and right as it plowed southward. The ship was creaking and I could hear some muffled banging below; I couldn't help picturing the vehicles on the cardeck rolling around and crashing into each other. I checked the GPS and saw that it had left the sanctuary of the Alaskan straits and was now on the edge of the Pacific Ocean itself. There was a little bit of gray light outside, and at the window we could see chaotic 4-foot waves. I fell back asleep, counting the cycle of the ship's roll (about 8 to 10 seconds). We woke up around 5:15 am ADT with a loud knock on the door and the purser saying "Prince Rupert in 30 minutes". His voice trailed off as he did the same thing on other cabin doors. By this time we were approaching port and the waters were smooth. We slowly got up, got dressed, packed, and after the ship docked we headed down to the car deck.
As the deck hands signalled us, all 50 of us in our vehicles took our turn at starting our car and driving off the ship. The lane then led directly to the Canadian custom border checkpoint, which went very smoothly (about 30 seconds per vehicle). Then we were out in the streets of Prince Rupert with a long drive ahead of us. We fueled up briefly and got a make-do breakfast in the mini mart, then set off out of town. The mileage sign was formidable, saying "Prince George 797" (kilometers), after all, Prince Rupert was as far east as Juneau, Alaska and we had a lot of ground to cover before we were even as far east as the western United States.
As we drove out of town the alarm clock in my bag went off. It had been set for 6:15 ADT, and it was only then that we realized we were now on Pacific time and all our clocks were off (the correct time was 7:15 PDT). The drive out of town was intensely scenic; we drove along a fjord lined with lush Pacific trees and vegetation. Unfortunately the highway was 2 lanes and constantly curving, and the driving was beginning to wear on me after 100 miles of this and only several hours of sleep.
About 200 miles later we stopped to switch at Moricetown. We went about another 15 minutes then stopped for lunch at Dairy Queen at Smithers. We then drove through the next town, Burns Lake (no relation to Smithers and Burns, of nuclear power plant management infamy on "The Simpsons"). The progress eastward on Highway 16 was excruciatingly slow to look at on the road map. In the meantime I continued to study our options for the fastest route to Oklahoma. One possibility was via Spokane, Salt Lake City, and Albuquerque; the other was from Jasper to Great Falls to Denver (though the big question was whether the 150-mile road through Banff National Park, the only option, would slow us down). We finally decided to take our chances through Banff and on to Great Falls and Denver. This would also get us out of mountainous terrain quicker.
Finally, at long last, we made it to Prince George at 3:30 pm, and we joked a bit about "waking up" and finding it was all a dream and we were still halfway to Prince George. We navigated through the small city and pressed on to Jasper down a relatively remote highway that was rather devoid of traffic (about 1 opposite-lane car every 2 minutes). Just west of Penny we saw two small black bears along the highway playing in the sun, and west of Dome Creek we saw a large black bear eating grass and flowers. He let us watch him eat, mildly interested in our presence but not enough to come near the car. British Columbia was alive; under the warm sunshine the trees and grass were a vivid green and we saw a cougar, elk, some stray cattle, and lots of honeybees. Further on we passed through an astounding mountain range and right beside Mount Robson, the highest peak in the Canadian Rockies.
Around 7:30 pm we made it to Jasper, a bustling tourist mecca and apparently a playground for Alberta. We fueled up and headed down Highway 93 into Jasper National Park. The gate attendent charged us $10 for the 150 miles ahead of us, and we drove southeast, past many elk and deer. The road took us into an incredible mountain range, one of the best striking that I have ever seen, where slabs of granite seemed to be catacysmically rafted skyward to heights of well over 12,000 feet like massive icebergs. Although we had no plans to sightsee, we were astounded by the scenery and I set up some photo shots in the fading light.
Although there were a lot of campers and RV's in the camping areas, there was almost no traffic in the park. I am sure this was because it was late on a weekday night before summer, and if we had tried this on a weekend in July progress would have been very difficult. The road took us out of Jasper Park and into Banff Park, which was pretty much the same thing but a little less impressive (aside from some cavernous mountain ridges). We reached the end of the road at midnight and got eastbound on the Trans-Canada Highway. This was a terrible road and I can hardly believe the Canadians set such a standard for their primary east-west thoroughfare. Although it was pretty well maintained, the road was very dangerous, poorly lit, and full of tractor-trailers driving well above the speed limit. We got off the "freeway" at Canmore and found some great motels. We settled on the Rundle Mountain Motel, and found an excellent room and great service with a good price. The room even had a kitchenette with dishes.

Miles driven today: 897
Business ratings (0-4 stars):
Rundle Mountain Motel, Canmore AB * * * *



< Back
Main Page
Forward >

Prince Rupert, BC -- early in the morning, our drive out of Prince Rupert leads us through lush Pacific forests.

Prince Rupert, BC -- low stratus clouds highlight the great scenery on our drive eastward.

East of Prince George, BC -- late in the afternoon we begin our long drive towards Jasper, AB on Highway 16 (the Yellowhead Highway). The scenery was quite beautiful.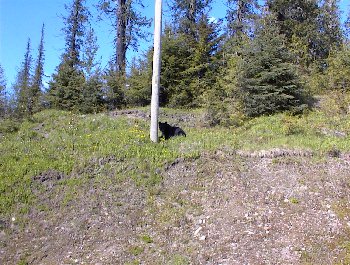 Dome Creek, BC -- another black bear near the highway grazes on dandelions and grass.

Mt Robson, BC -- approaching the Alberta border, we get a fantastic view of Mount Robson, the highest point in the Canadian Rockies at an elevation of 12,972 ft.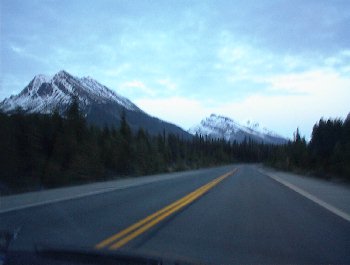 Jasper National Park, AB -- a scenic road winds through Jasper National Park, with views much more impressive than we were expecting. This photograph doesn't do it justice, though, as it was getting dark.