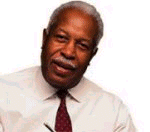 "I bet you feel deluged by all the Nigerian spam letters you're getting. You wonder who will give you a better deal. Here at the Nigerian Connection, Nigerians compete for your business. Let us get you a better deal!
-- Mr. Hichambe Awasa
CEO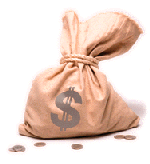 The Nigerian Connection is like money in the bank.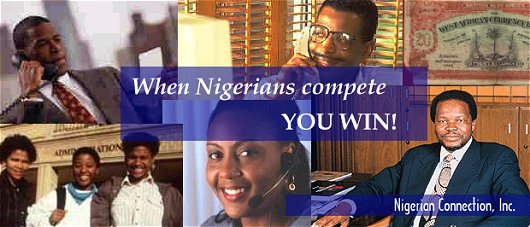 We search our network of NIGERIAN CONTACTS for the best million-dollar offers for you!
Oil contracts
Hundreds of destitute African investors are unable to move billions of dollars in oil money to the European and American markets. Give them a hand and get rich!
Assassinations
When a ruler is deposed, Nigerians always need that special "someone" to help launder the estate. That special someone is YOU!
Plane crashes
You've often seen those African plane crashes in the news and think, "There's a wealthy ruler on board! What will become of his money!" We say to you: don't worry, be happy! That's our job at the Nigerian Connection.
Over-invoiced contracts
There is close to $820 trillion sitting around in Nigerian bank accounts belonging to foreign contractors who have left and vanished. Stake your claim now!
Boxes of money sitting around
Nigerian warehouses are inundated with boxes of money like this one. Many Nigerians just don't know what to do! With the Nigerian Connection you'll be well on your way to reaping a handsome reward.
APPLICATION FEE. THERE WILL BE A NONREFUNDABLE FEE OF $2500 FOR CREDIT CHECK.
PRIVACY. ALL TRANSACTIONS WILL BE HANDLED WITH THE STRICTEST CONFIDENCE.


121 MALAWI ST #4-A, LAGOS 41 NIGERIA