It was a very uneventful drive with fair, hot weather the whole way back. About the only highlight was a billboard on the north side of Interstate 40 near Vega that announced "Ho Made Pies". We stopped around that area to refuel, and continued to Amarillo then southeastward. Surprisingly when I called my sister Susan she said that my parents were about an hour behind us, returning from their Colorado trip.
We got to Garland just before dusk. With it being the Fourth of July we thought about going out to see a fireworks display, but were a bit too tired. We headed back to our house in Oklahoma the next day.
Likes:

Being back near home

Dislikes:

None in particular




What is it with all those historical markers? They typically say something to the effect of "John Doe killed a bunch of Indians, did such and such for X company, and got rich." I don't think we've ever seen a marker commemorating the accomplishments of a Native American (unless they were doing something lucrative for a company).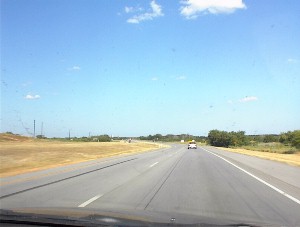 Long stretch of driving west of Wichita Falls.

Shannon practices a good road rage technique.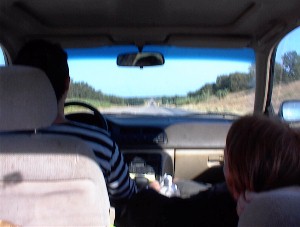 Only an hour and a half from our destination, near Decatur TX.