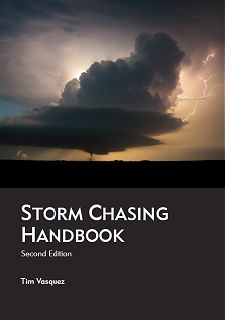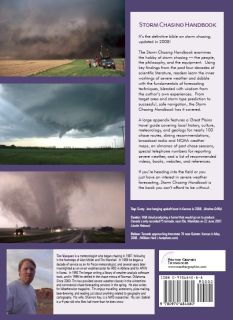 Storm Chasing Handbook
Second Edition
by Tim Vasquez
322 pp. / 206 illustrations / $32.95 / ISBN 0-9706840-8-8 / Printed December 2008 / 7 x 10" / True bound / Offset print / Glossy color cover

* Sample chapter (PDF, 1.7 MB)


---
"If severe convective storms are in your realm of interest, then I highly recommend the Storm Chasing Handbook, whether you intend to chase or not. The pages on severe thunderstorms and their forecasting are well worth the book's modest price."

---
"Storm Chasing Handbook occupies a special niche in my book case here in Honolulu. It was acquired at the "Severe Weather Workshop" last March in Midwest City. I've mentioned it to all my Ham friends who participate in Skywarn as the 'Storm Chasers Bible'!."


-- Thomas A. Seale, Honolulu
---
"I really enjoyed reading the "Storm Chaser Handbook", an excellent book! Never before have I seen a book so informative, chock full of photos and anecdotes, yet condensed into easy-reading material!"


-- Eric van Lochem, Dundas, Ontario, Canada
---
The Storm Chasing Handbook is the definitive bible on storm chasing, packed with nearly 300 pages of storm chase history, philosophy, technique, and travel information. Using key findings from the past four decades of scientific literature, readers learn the inner workings of severe weather and dabble with the fundamentals of forecasting techniques, blended with wisdom from the author's own experiences. Many skilled chasers contribute their own wisdom in the form of anecdotes, tales, and funny stories. From target area and storm type prediction to successful, safe navigation, the Storm Chasing Handbook has it covered. A large appendix features a Great Plains travel guide covering local history, culture, meteorology, and geology for nearly 100 chase routes, as well as broadcast radio and NOAA weather maps, a summary of past chase years, and much more!
Includes nearly a dozen illustrations and cartoons by pioneer and storm artist David Hoadley, some of which were commissioned especially for this book. Contains great photographs by Roger Hill, Gene Rhoden, Karen Leszke, Roger Edwards, and the author himself.
Perfect for new chasers looking for a good start, seasoned veterans looking for travel information, chase tour customers, weather hobbyists, and anyone who deals with severe weather on a regular basis.
Detailed contents
STORM CHASING. Learn all about the inner workings of the hobby, how it got started, and who's involved. This chapter covers the early days, profiles of chasers, philosophy and objectives, ethics, the yahoo, and how to start chasing.

EQUIPMENT. A perfect companion when you're shopping for gear. You'll find out which features matter the most. Covers camcorders, still cameras, digital cameras, vehicles, GPS units, navigation aids and atlases, amateur radio, television, satellite systems, and chase partners!

THE THUNDERSTORM. What is it that we are chasing? What is convection, and how does the atmosphere create conditions ripe for thunderstorms? This chapter highlights thunderstorm growth and ingredients, storm types, supercell types, and thunderstorm phenomena.

FORECASTING. Tim's vast forecasting expertise is laid down in this 40-page section. Fill in your knowledge of convective and mesoscale forecasting. Topics include the ingredient-based approach, analysis, diagnosis, instability, moisture, lift, shear, the dryline, fronts, orientation of boundaries, terrain, numerical models, long-range forecasting.

STRATEGY. What do you do when you're out in the car? Learn to sharpen your success and safety when out in the field. Subjects include targeting before storms develop, long-range strategy, close-range strategy, field tactics, and navigation.

SAFETY. Safety overshadows all aspects of storm chasing. Dozens of important tips are outlined in this section. It's split into topics on traffic, navigation, weather safety, and environmental safety.

TRAVEL GUIDE. Chasing is not all about storms. Over 90% of the experience takes place under sunny skies and with a travel-oriented attitude in mind. Just what is this empty expanse you are crossing? There's much more to it than meets the eye. Mile-by-mile points of interest along all major highways, including cultural, historical, geological, and meteorological aspects of the trip, are documented here. You won't find this in any tour guide. Covers Southwest Texas, North Texas, the Panhandles, Oklahoma, Eastern Kansas, Colorado & West Kansas, the High Plains, the Northern Prairies, and the Far North.

GREAT PLAINS DINING. We've sought out almost 70 legendary steakhouses, BBQ joints, and Mexican restaurants across the Great Plains. These aren't just the local feeding troughs. These places are guaranteed to make even the worst bust enjoyable. GPS coordinates, addresses, and telephone numbers of nearly all listings are included.

NOAA WEATHER RADIO CHASE MAPS. A 3-part map series will help you locate the right NOAA Weather Radio frequency to tune to and where the closest transmitter is.

AM/FM RADIO CHASE MAPS. We've combed through FCC and industry data to find all of the FM and AM broadcast stations in remote areas of the Great Plains which might be counted on to give you a critical bit of information or a warning. Syndicated stations are asterisked to indicate that the station might be on "autopilot".

ANNUAL CHASE DIGEST. Just what were all the big "catches" during each chase year, going back to 1982? You'll find out in this guide. Important climatological indexes are included, including teleconnection and ENSO/LNSO trends, just in case you want to see if you can draw associations.

MUCH MORE!. The Fujita damage scale, of course, along with a storm troubleshooter, how to pick a chase tour, top ten mistakes made by new chasers, suggested references, a 6-page 3-column glossary, and more!