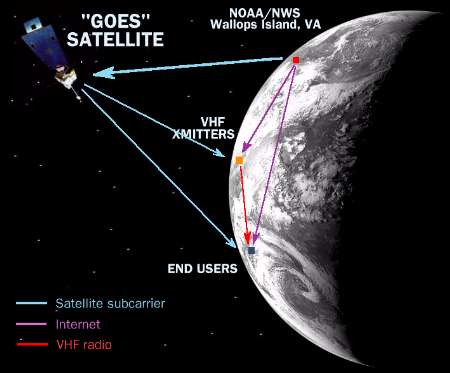 EMWIN (Emergency Management Weather Information Network) is the name for a datastream that provides free emergency weather information and other related data. In 1995 the National Weather Service recognized the need to provide the emergency management community with access to a set of NWS warnings, watches, forecasts, and other products at no recurring cost. The datastream is distributed through three methods -- Internet, satellite, VHF broadcast.
Funding, volunteer work, and/or technical assistance for EMWIN is provided by the National Weather Service, the Federal Emergency Management Agency, and other public and private organizations.
EMWIN Control Center, National Weather Service
There are three different access methods. Each has its pros and cons, listed in the table below.
Reception method
Typical initial expense
Typical monthly operating cost
Advantages
Disadvantages
Satellite
$1000
$0
Receivable from most points in western hemisphere.
A satellite feed is least vulnerable to outages.
Higher initial expense
VHF broadcast
$400
$0
The most cost-efficent long-term solution
Initial expense around $400.
The use of slower 1200 baud data rate is common, reducing variety of products.
Broadcasts are only in select locations
Internet
Computer and Internet access required
$40
No special hardware required
Ties up a phone line or requires a network connection.
Server overloads during major weather events may slow down or prohibit data access.
SATELLITE BROADCASTS
Satellite broadcast is one method used to disseminate the datastream. The National Weather Service broadcasts EMWIN on the National Oceanic and Atmospheric Administration's GOES 8 and GOES 10 satellites.
Both satellites are in geostationary orbit 22,000 miles above the equator. GOES 8 is at 75 deg W and GOES 10 is at 135 deg W. The NWS GOES downlink frequency used for the 9600 baud EMWIN datastream is 1690.725 MHz, 275 KHz lower than the standard WEFAX 1691.0 MHz signal.
Coverage of EMWIN signal on GOES satellite
The EMWIN data is also uplinked to a commercial satellite, Telstar 5, as a public service. Telstar 5 is in geostationary orbit at 97 deg W. The EMWIN signal is broadcast on the L-band (12185 MHz), FM-FM, DFSK, 1.065 MHz subcarrier (1435 MHz downconverted).
The signal is received using a 3-foot or larger dish. The signal is then passed through a receiver, low-noise amplifier, and downconverter. It is then converted to a 9600 baud datastream using a demodulator. The data is then extracted by Weathernode software on the user's computer.
Weather Graphics Technologies sells Cyclone, a complete system to receive satellite EMWIN data.
VHF BROADCASTS
VHF broadcast is one method used mainly by public and private agencies for disseminating parts of the EMWIN datastream in a community and surrounding regions. Some of these rebroadcasts are experimental and could be discontinued at any time.
The broadcasts are usually received on a frequency between 155 and 170 MHz, and are demodulated by special hardware into a 1200 baud signal.
Due to the inherent limitations of the VHF reception method, Weather Graphics Technologies does not market a VHF reception package, however we can provide a price quote on request.
Coverage of EMWIN VHF rebroadcasts
INTERNET BROADCASTS
EMWIN Weather data is transmitted by push-pull method to computers equipped with the appropriate software, however this requires a dedicated Internet connection 24 hours a day, and is subject to network degradation and delays during peak Internet load times (during the evening and weekends).
EMWIN CONTENT
EMWIN WEATHER PRODUCT CATEGORIES
The EMWIN system contains many categories of weather data, with over 6,500 unique products. The current EMWIN datastream contains all generally available public products from the NWS Telecommunications Gateway including the following product categories:
Environmental/Air Pollution Analyses
Hydrological/Marine Analyses
Surface Analyses
Daily Surface Climatology
Monthly Surface Climatology
Aerodrome Forecasts
Aviation Area Forecasts
Extended Forecasts
Flash Flood Guidance
Headwater Guidance
Hydrological Forecasts
Iceberg Forecasts
Local/Area Forecasts
Public Forecasts
Recreation/Travelers Forecasts
River Forecasts
Shipping Area Forecasts
AFOS charts and map overlays
GOES satellite images

Civil Emergency Messages
Public Weather Statements
Radar Reports
Seismic Reports
Synoptic Reports
Hydrological River Reports
Drifting Buoy Reports
Ice Reports
Severe Weather Warnings
Severe Weather Summaries
Severe Weather Statements
Severe Weather Advisories
Tsunami/Tide Warnings
Tornado Warnings
River Flood Warnings
Lakeshore/Marine Warnings
Typhoon/Hurricane Warnings
Marine/Coastal Flood Warnings
Severe Thunderstorm Warnings
COMPLETE LISTING OF EMWIN TEXT PRODUCTS
Surface Observations (METAR Data), NEXRAD RCM radar report bulletins, Area Forecast Discussions, Volcanic/FIRE Warnings and reports, Area Weather Summaries, Civil Emergency Messages, Coastal Flood Warnings, Climate Reports, Coastal Waters Forecast, Day One Convective Outlook, Day Two Convective Outlook, Emergency manager activation messages, Ephemeris data for satellite orbits, Earthquake Data, Flood Potential, Water Supply Forecast, Aviation Reports (Pilot briefs), Feedback to all users, Flash Flood Warnings, Flash Flood Advisories, Flash Flood Statements, National Flood Summaries, Flood Warnings, Fire Weather Forecasts, Great Lakes Forecasts, Great Lake Outlooks, Great Lakes Summaries, Hurricane Probabilities (all hurricane bulletins cover Atlantic/North, East, West, and South Pacific), Hurricane Discussions, Hurricane Forecast Advisories, Hurricane NCEP Model Comparison, Hurricane Public Advisories,Hurricane Monthly Summaries, NCEP Tropical Discussions,Tropical Weather Outlooks, High Seas Forecasts,Hurricane Local Statements, Hazardous Weather Update, Ice Statement, International Overviews, Local Forecasts, Lake Shore Forecasts, Local Storm Reports, Marine Weather Statements, Agriculture Products (Intn'l /National), Near Shore Forecasts, NOWcasts (Short Term Forecast), Non-precipitation Warnings, National Weather Summaries, Offshore Forecasts,Other/Offshore Marine Reports, Public Information Statements, Propagation Reports, Post Storm Reports, Recreation Forecasts,Record Event Reports, Red Flag Warnings (Fire Warnings), River Summaries, River Forecasts, River Statements, Regional Weather Summaries, Selected Area Watches, Selected Cities Forecasts, Watch Areas, State Forecast Discussions, State Forecasts, Live Ship Reports, Six to Ten Day Outlooks,SPC Areal Updates, SKYWARN Activation Messages,Special Marine Warnings, Special Weather Statements, State Temp & Precip Reports, State Weather Summaries,Severe Thunderstorm Warnings, Severe Weather Statements, Severe Weather Outlooks, State Weather Roundups,Space Weather (solar activity), System messages,Aviation Terminal Forecasts/airports, Tide Data, Tornado Warnings, Tsunami Warnings, Travelers Forecasts, National Ultra-Violet Index, Winter Storm Warnings, SPC Weather Watches, Zone Forecasts.
Please break down all graphic products I would receive with EMWIN. There are over 200 different subtypes, including: clouds, dewpoint, fronts, humidity, isohyets, lightning, marine, precipation, pressure, radar, temperature, winds, and so on. There are also images that depict national radar, cloud cover and many other weather conditions.
Who do I contact about EMWIN data issues? Visit http://iwin.nws.noaa.gov/emwin/index.htm for further info.
QUESTIONS
I'm not involved with emergency management. Can I receive this free datastream?
Yes, you can. There is no scrambling of the signal and there is no need for an account. The data is freely available, similar to imagery from the GOES satellites. Even if you're a hobbyist in a remote town in Argentina you can easily receive the signal.
Will EMWIN become the primary outlet for National Weather Service products?
No. EMWIN is intended only to supplement other NWS dissemination services, which include NOAA Weather Radio (NWR), NOAA Weather Wire System (NWWS), Family of Services (FOS), NOAAPORT, and NEXRAD Information Dissemination Service (NIDS).
Why is there no EMWIN VHF transmitter in my area?
Such transmitters are usually locally or privately owned. Contact your local amateur radio club or SKYWARN agency and let them know of your interest.