Weather Graphics is safe; business as usual
(5/21/2013) We have made it safely through Sunday and Monday's tornadoes here at our Norman, Oklahoma office, though Sunday's tornado passed about 4 miles away and we lost electricity for almost a full day late Sunday and early Monday. Shipping and support has been set back slightly, but we are catching up. For those of you interested, I have composed maps of the damage track for the Sunday (Norman-Shawnee) and Monday (Moore) tornadoes. For those wanting to help the survivors of this week's tragic event this listing on Reddit is an excellent place to start. - Tim Vasquez


Special deal this month: Global Archives Lite for $79
(5/21/2013) If you haven't been sure about purchasing the Global Archives dataset, you can get the most recent 5 years of Global Surface Archives and the full Global Upper Archives set, released just this month, at the price of only $79! This deal expires on May 31. Order here!
Forecaster's Handbook Series
(Click on any book for more information)
Digital Atmosphere
Digital Atmosphere
is a full-featured Windows software package that allows you to plot detailed surface and upper air maps, soundings, and radar charts anywhere in the world. This software program has been under development since 1992 and is used by hundreds of hobbyists, companies, and weather agencies. Check out some websites with Digital Atmosphere in action:
AustralianWeatherNews
,
MeteoCenter Russia
, and
Weather Roanoke
. It's even used to construct publication-quality
Weatherwise
"Forecast Center" puzzles!
Windows 7/Vista/2000/XP
Standard Version: $89
|
Info
|
Buy
Professional Version: $199
|
Info
|
Buy
There's no risk getting the Standard Version, as it is upgradable at any time to the Professional Version for the difference in price.
In stock

Forecast Simulator
Do you have what it takes to get storm chasers to the target? This educational forecasting simulation draws from 250 major chase days between 1979 and 2009, presenting users with the morning analysis charts and high-resolution hourly satellite images. Page forward hour by hour and refine the forecast, then once storms develop, compare how well you did with the locations of actual tornadoes, hail, and wind.
Windows 7/Vista/2000/XP
49.95
|
Info
|
Buy
In stock

Forecast Laboratory
Our first forecast chase simulation! It allows you to practice your forecasting skills with thousands of charts for 488 spring and early summer days in 2000 through 2004 -- including big outbreaks, ordinary scenarios, and null events. You never quite know what you'll get! After you've perused the morning charts, you need to pick a base city for your chasemobile from one of 12 major cities. Then start it on its way towards the target! As severe weather unfolds, you'll see text reports stream in from locations close to your chasemobile. A karma rating keeps track of how well or disappointing your chase is doing, comparing your own success and what's going on just over the horizon.
Windows 7/Vista/2000/XP
49.00
|
Info
|
Buy
In stock

WX-SIM
WX-SIM is a dynamic forecast model operating at one location, forecasting the weather for that spot. WX-SIM exploits observed conditions and centralized forecast data from NOAA and combines it with its own sophisticated physics model of the local atmosphere. The result? A singularly accurate forecast for the location of your choice. This makes it the tool of choice for the agricultural industry, aviation forecasters, and sporting venues. (Windows 7/Vista/2000/XP)
WX-SIM Standard: 129.00
|
Info
|
Buy
WX-SIM Professional: 249.00
|
Info
|
Buy
We recommend the Standard version for most users. For those who would like to upgrade later, the Professional version is available for the difference in price.
In stock

RAOB
Skilled forecasters demand powerful diagnostic tools, and for upper air analysis, nothing surpasses the capability of RAOB. You can import any upper air data from free weather datasites or from files obtained by Digital Atmosphere. Pick from any station in the list and view soundings, emagraphs, tephigrams, hodographs, and stability indices in amazing detail. Excellent customization capabilities allow charts to be displayed exactly the way you want them. There are optional modules available for hodographs, cross sections, interactive sounding analysis, soaring, mountain wave, and much more! (Windows 7/Vista/2000/XP)
99.95
|
Info
|
Buy
In stock

Archives Datasets
When you want to look at past weather situations, our Archives Datasets give you tremendous amounts of historical information.
Total Surface
offers METAR data for North America spanning 1931 to 2009, and is plottable by Digital Atmosphere or any program capable of handling METAR format.
Total Upper Air
offers upper air data for North America spanning 1958 to 2007. This, too, is in a standard coded format (WMO TEMP) and is plottable by Digital Atmosphere, RAOB, SHARP, and many other programs.
Total NCEP
gives key NCEP charts going back to 1998 which constitute the official surface and upper-air analyses, twice a day, for North America.
Total NWS
is packed with forecast discussions, warnings, watches, zone forecasts, and much more going back 10 years into the past; an excellent keepsake for hobbyists, researchers, and investigators.
$99-249
|
Info and ordering
ARGON
For analysts, industry researchers, and researchers who want it all, ARGON is a ultra-massive database containing over 100 GB of weather data in MySQL database format. It's all contained on an expandable 250 GB USB hard drive. There is complete observation coverage for North America from federal weather observation sites, with data content spanning January 1931 to November 2009. With the power of SQL, you have unprecedented capability to analyze statistics and weather records. You can export data to spreadsheets, compute averages, develop climate algorithms, and much more! Optional updates are available in the form of DVD patches sent twice a year.
$1275
|
Info and ordering
---
Weather reference charts now available for download
(5/15/2013) Attention all forecasters: A large collection of Skew-Ts, tephigrams, weather plotting charts, station locator charts, and other graphics are now available on our website for download. There are several varieties of skew-T log P diagrams and also some obscure ones, like pastagrams and arowagrams. These are all scans of actual vellum diagrams I have in my collection. Though we're now in the Internet age and paper is largely obsolete, there is still nothing like having the original diagrams in order to work out special problems. Enjoy! - Tim Vasquez
»
Weather reference charts
---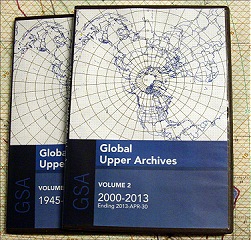 Global Upper Archives released
(5/14/2013) After a year of development, we are proud to announce the release of Global Upper Archives, the first historical collection of radiosonde observations for the entire world! There is solid coverage going back to 1973, with extensive coverage in North America and in U.S.-affiliated sites around the world for earlier years. All data is in WMO FM-35 TEMP format, also known as TTAA/TTBB/PPBB, which makes it easily plottable in a number of display programs. Construct a 500 mb vorticity analysis for May 25, 1987 in Germany, or a sounding for Sweden on July 15, 2004! It's all here at your fingertips.
* Data collected from multiple sources
* Plots in Digital Atmosphere, RAOB, and other programs that work with observational data
* 25.6 million upper air observations
* Almost 2000 stations in the database
» Global Upper Archives information and ordering page
Digital Atmosphere news
*
Mac OS X support
. One of our users, Filippos Tymvios from the Cyprus Met Service, confirms that Digital Atmosphere (which is a Windows application) works perfectly on Mac OS X using the WinonX emulator. He reports, "The installation is very easy: you start the emulator and double click on the Digital Atmosphere .exe. The only problem was noticed when working and switching from more than 3 osx applications to DA. The emulator freezes and you have to restart it - and that's all." The WinOnX website is located
here
.
*
Upgrade work
. Upgrade work is resuming as we have managed to finish all coding changes and successfully recompile the application last week under Delphi 7. All previous Digital Atmosphere versions were written under Delphi 5, which we abandoned a couple of years ago. In spite of a couple of years passing since the last update, we are actually still on track for more updates to be released in the months ahead.
(8/22/2012)
Global Surface Archives is complete
Mount Pinatubo was the second largest volcanic eruption of the 20th century, covering the Philippines in ash in 1991 and claiming nearly 1000 lives. One of the first networks to broadcast the information was not television or radio stations, but weather observations transmitted over AFTN and WMO networks. Here is one such example from Subic Bay Naval Air Station:
---
1991-06-14
| RPLB 140700Z 27008KT FEW020 BKN030 BKN080 OVC300 9999 TSRA 31/24 Q1005 RMK CIG030 TS OVHD STNR OCNL LTGIC VOLCANIC ASH ALQDS T1 SLP053=
1991-06-14
| RPLB 140800Z 24010KT SCT020 SCT030 OVC300 8000 TSRA FG 30/24 Q1006 RMK CIG030 TS OVHD STNR OCNL LTGICCG VOLCANIC ASH ALQDS T1 SLP059=
1991-06-14
| RPLB 140900Z 34005KT OVC001 1600 TSRA FGSS 29/25 Q1005 RMK TS OVHD STNR OCNL LTGICCG VOLCANIC ASH ALQDS T1 SLP053=
(note: ICAO identifier is adjusted to 2010 and data has been re-coded to the 1996 standard)
---
Where did this data come from? Only from the new
Global Surface Archives
set. It contains actual observed meteorological data from almost 10,000 stations around the world from 1931 to 2011. Nothing at all approaches this product for meteorological case studies, weather forensics, accident investigations, and insurance and energy company research. It is very much similar to the Surface Archives set we've sold since 1997 but is much more expansive and may ultimately replace our US and European archives products.
You too can have access to this giant 50 GB dataset. This is not sterile, cryptic gridded data that must be run through university software, but is raw text data as it actually appeared on weather teletype in METAR and SYNOP format. It can be decoded by sight by most meteorologists and imported into a wide range of programs. All data after 1973 even has human-entered remarks as shown above. This brand new product took three continuous months to build on an Intel core i7 core machine from hundreds of gigabytes of 9-track tape volumes from NOAA. All data is sorted into hourly collectives (i.e. one file per hour) for easy importing in your favorite data viewers such as Digital Atmosphere, GEMPAK, or any off-the-shelf meteorological data viewer. We also offer a version sorted station-by-station in both text format and CSV spreadsheet format.
The product carries a price of between $199 and $349.
»
Product page & pre-ordering