Ajo, Spanish for "garlic", has a population of about 4000 and is located in a remote area of southern Arizona (120 miles west of Tucson). The town's economy originally centered on a large mine that was open from 1926 to 1985, and now serves mostly as a retirement community and a waypoint for tourists heading from Phoenix to Mexico's port city of Puerto Penasco. Ajo is a thriving community during the winter months, but during the scorching summer months tends to be a quiet place. Small, with no neighboring communities and a weak economy, Ajo has escaped the tentacles of retail giants Wal-Mart, McDonalds, and others. The largest store is a small IGA grocery, and the only fast-food chains are a Pizza Hut and a small window-service Dairy Queen.
Our Ajo Restaurant Reviews

Location of Ajo.

Our motel -- the Marine Motel. The nearest boat is probably 100 miles away.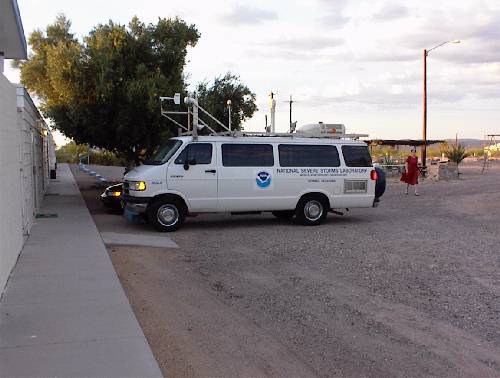 Our room. Once at 4 am and once at 4 pm, Shannon launches a weather balloon. Since Ajo is in a data-sparse region, the valuable information gathered by these balloon launches will be used by researchers to study the Arizona monsoon and on a daily basis by National Weather Service forecasters in Tucson.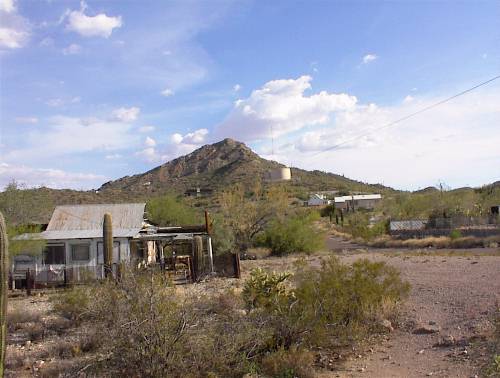 The town's seen better days. On the western side of town are some older houses that probably saw better days during the operation of the town's mine.

New Cornelia mine. This is the huge open-pit mine that served Ajo for several decades.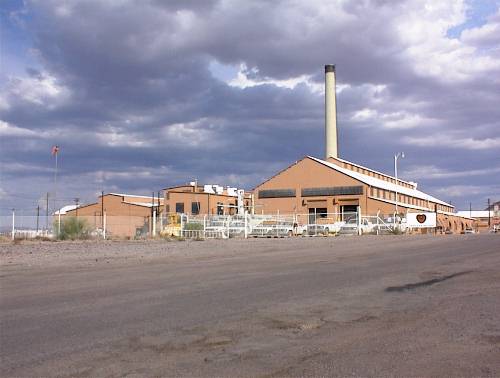 Phelps Dodge mine plant. Here's the company that employed thousands of residents at one time. It is said to be undergoing re-opening, but aside from a security team at the gate and a few trucks passing by, it appears that it's not yet open.

Downtown Ajo. Ringing town square are a couple of restaurants, a post office, a grocery store, a general store, and some gift shops.

Immaculate Conception Church. It faces town square.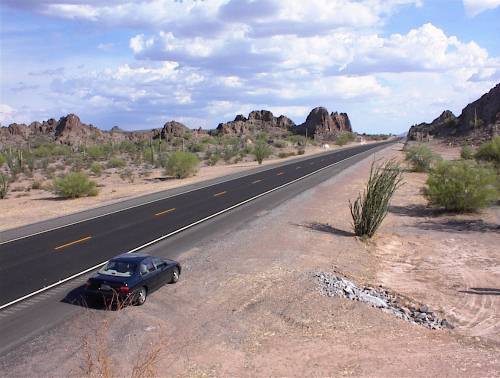 Sonoran desert. Highway 85 about 12 miles north of Ajo. The rocky, cactus-covered terrain evokes images of Wile E. Coyote and Roadrunner.

Saguaro cactus. When you see a Saguaro cactus, you know you're in the Sonoran desert (southern Arizona and northwest Mexico) and nowhere else. The Saguaro can grow to 50 ft high, and specimens this large are usually well over 100 years old. Fines are very steep if you get caught trying to damage or steal one.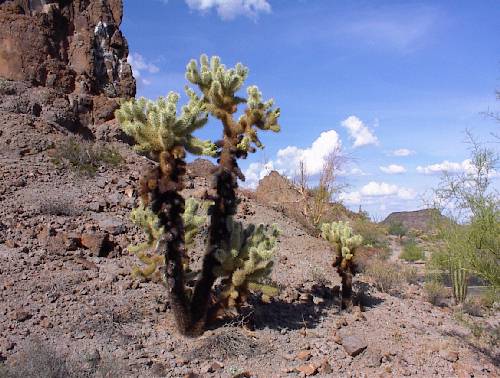 Cholla. Cholla, which are sometimes mistaken for Joshua trees, are probably more common than cactus plants here. The prickly branches tend to break off onto the clothes of passerbys, hence its nickname "jumping cholla".

Palo verde tree. Bees make fragrant honey from Palo verde trees. Palo verde are sometimes used as emergency forage by ranchers.

Prickly pear. These cactii are a nuisance to animals on rangeland, and tend to overrun the ground as the grass is grazed away. The spiny pads tend to break off and stick in the throats and noses of cattle.
Return to Tim's personal page
---
Copyright © 1999 Tim Vasquez. All photographs taken Friday, 7/16/99.