Shannon and I had driven to Garland, Texas the previous night so that we could drop off our 2 dogs with my parents and leave my sister, Susan, some business supplies.
The trip then began! We left Garland around 10 am, stopping briefly to fill the tank. We headed west through Fort Worth then up US 287. By 12:30 pm we arrived in Wichita Falls, stopping at Burger King for a very light lunch and continuing uneventfully through the rolling prairie of northwest Texas. After stopped again, this time at a large travelmart in Clarendon, we continued northwest and began seeing distant thunderstorm anvils to the north. Once in Claude we diverted slightly in that direction, gradually approaching the weak storms in the Texas Panhandle as we drove deserted highways through Borger, Dumas (where we stopped for gas), and Stinnett.
At 6:30 pm we stopped at the TX/OK border for a break, to look at the storm, and to talk with a horse that was peering over the fence at us. He almost accepted Shannon's offering of grass but at the last minute decided to run off. Speeding up to avoid getting pounded by the rain and hail in one of the storms (not chasable; they were weak and mushy looking) we continued north through the Oklahoma Panhandle and at 6:30 pm reached the Colorado border (no, that's not instantaneous travel, that's Mountain Daylight time now).
Once we reached Springfield CO we found the town's main street torn up in a massive resurfacing project. Then we hit a construction zone from hell where a flagman guarded a one-lane route that ran for ten MILES. We were waved through without much waiting, but soon we hit a second ten-mile zone and were parked along with dozens of other vehicles and trucks. People got out and walked their dog, truckers met and talked, and we waited. About 20 minutes later we were on our way.
At about 8:45 pm with darkness falling, we rolled into the small town of Eads, and seeing the clock we decided this was it for any decent dining opportunities. We pulled into the Country Kitchen, and getting out of the car we were immediately met with 50's temperatures and a brisk wind! What a change from the hot weather in Texas. At the restaurant about 10-15 locals and travellers were eating. A very tall, young waitress took our orders -- a cheeseburger for me and chicken strips for Shannon. Turns out after Shannon took a few bites of the strips, they were raw on the inside! She cut into all the strips, which were all raw on the inside. About that time I heard an old man in the booth behind us grumbling to his friends about the super-rare steak he just got! The waitress took care of the old man, then once Shannon waved and spoke up. the waitress buried her face in her hands, then sat down and apologetically explained the whole situation with the cook in the kitchen, a woman who had a habit of getting mad and in a hurry near closing time. The waitress added that this was her last night there after 3 years -- she hated this job and had a good one anyway at the nursing home in town. Shannon was offered the run of the menu on-the-house, but at this point she'd lost her appetite and declined.
I quickly finished my dinner, and by 9:30 pm we were on the road again, hoping to make Limon before it got much later. As I began typing this entry going towards Kit Carson for the final 60 miles to Limon, Shannon, who was driving, pointed out the tractor-trailer behind us, which was tailgating and edging left in a series of futile efforts to pass us. Bear in mind that we were already going 70 mph. Once we got into the town and the road opened from 2 to 4 lanes, the truck swerved to the right lane and accelerated past us, doing at least 45 in a 30 mph zone. Suddenly we saw a blaze of blue and red flashing lights somewhere behind us -- turns out a state trooper saw the whole thing and within seconds he had the truck pulled over. "YES!!" said Shannon.
The remaining drive to Limon was totally uneventful. We found an elegant motel called "Midwest Country Inn" where we got a suite with 3 beds and bath for only $42. The desk clerk was quite friendly and we chatted for a few minutes about the old NWS radar that used to be in this town; he explained that it was decommissioned and put in a local museum. It's nippy out there tonight!

Tomorrow we will find a jacket for Shannon and try to make it to northern Montana.

Miles driven today: 742
Gas: 5.7 gal @ 1.19 @ Garland ($6.83), 15.5 gal @ 1.22 @ Dumas ($18.85)
Expenses: lunch at W. Falls ($6.50), power splitter + soda @ Clarendon ($7.45), dinner at Eads ($5.45), motel @ Limon ($42)
Business ratings (0-4 stars):
Country Kitchen, Eads CO [no stars]
Midwest Country Inn, Limon CO * * * 1/2


< Back
Main Page
Forward >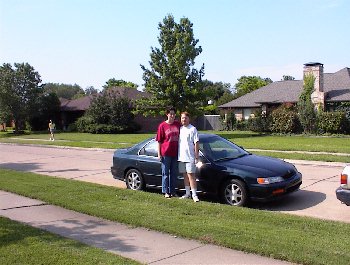 Garland, TX -- the adventure begins!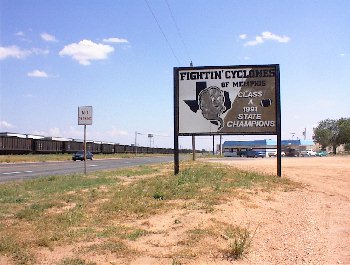 Memphis, TX -- home of the Fighting Cyclones.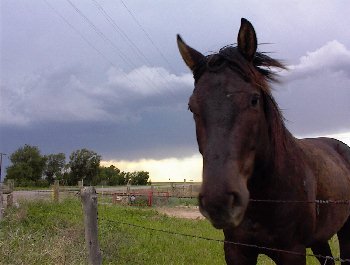 TX/OK border -- just 50 feet into Oklahoma, and with a thunderstorm nearby, this horse decides to socialize with us a bit. Unfortunately we didn't have any sugar cubes packed.

Springfield, CO -- a long, long wait at a 10-mile construction zone in southeast Colorado; one of the worst we'd ever seen. The AM radio broadcast for the construction zone even highlighted stress coping skills!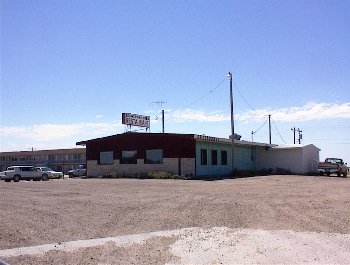 Eads, CO -- the Country Kitchen, noted for their raw chicken and raw steak. Avoid!!! (this photo was taken on our June 4 return)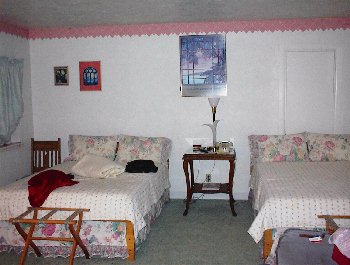 Limon, CO -- our excellent room at the Midwest Country Inn. The friendly desk clerk was in a good mood and gave us the suite.