Museum of Ridiculous Highway Design
Freak Road Placement

This page is designed for road corridors that just don't fit in with the locale.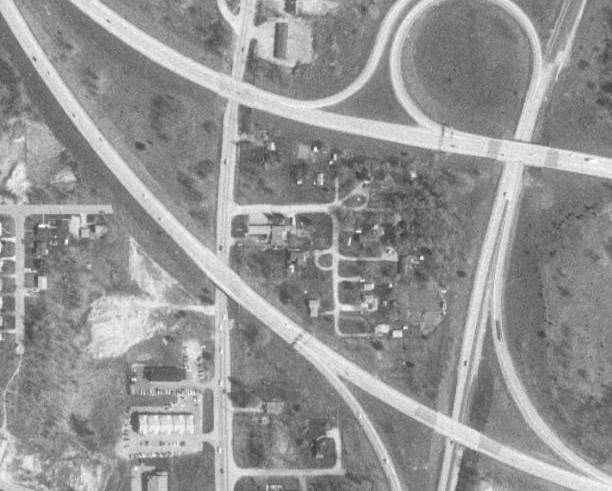 The friendly neighborhood interchange. Imagine living INSIDE of an interchange! Don't think it can happen? Take a look at this example in suburban Brighton, Michigan where Interstate 96 (left-right) meets U.S. 23 (up-down). The neighborhood, consisting of about nine houses, is flanked by two embankments supporting Interstate 96. Boy, if your dog jumps the fence here, he's a goner.
Comments from the engineer: Yeah, well first before I get into the nit-noy about this design I have to explain about my ex-wife who lives in the third house...
-- Michelangelo Snuffton
---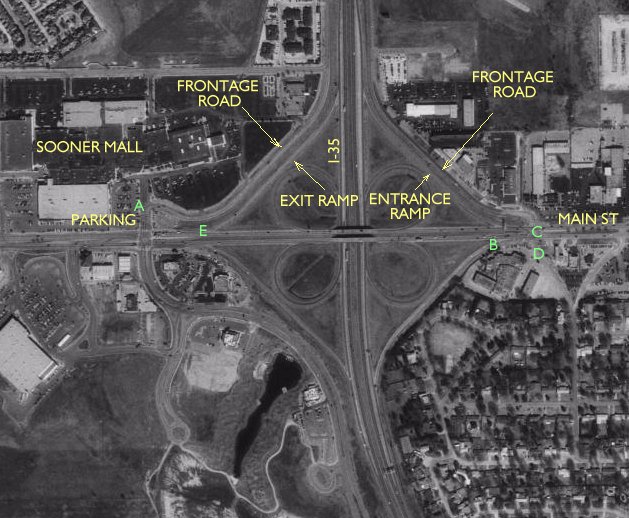 This is what happens when Norman doesn't plan for urban sprawl. This 41-acre cloverleaf with freeway collector-distributor lanes sits in the middle of the city of Norman. The problem is a lack of long-term planning to deal with the escalation of frontage road traffic. This 1995 photo is almost completely filled in with commercial development now. Vehicles southbound on the frontage road soon find theirselves in the Sooner Mall parking lot (A) and must yield to mall traffic which has unimpeded right of way. This stacks up traffic and encourages shortcuts through the mall parking lot. Traffic leaving I-35 to join Main Street (B) is blocked from making a left onto the frontage road (C) by a series of 4-foot high barriers. Traffic must instead turn right, make a U-turn in the EconoLodge parking lot (D), and proceed northbound through the intersection. This is how northbound traffic must reach the Wal-Mart now at the top right of the photo. Vehicles getting off the freeway at (E) have about 275 feet to get in the left lane to reach restaurant row. What a mess!
Comments from the engineer: What??? Let me see that photo! Hey, this worked fine thirty years ago when the frontage road was just a gravel surface! They've got a mall there now and haven't fixed things?? You've gotta be kidding.
-- Edward E. Noble III
---


Send comments to tim@weathergraphics.com!





Return to main page