Museum of Ridiculous Highway Design
Oklahoma McDonalds Exit

I don't think anything like this exists anywhere in the American highway system, and leave it to Oklahoma to come up with a half-assed solution like this.
You're feasting your eyes on the famous McDonalds Interstate 44 Exit at Wellston, Oklahoma. This is the only freeway exit over a 31-mile span, and provides access to the cities of Stillwater (home of Oklahoma State University) and Shawnee via U.S. 177. Traffic is collected by the McDonalds parking lot then distributed through the back gate near the dumpsters to reach the 400 ft access road to OK 66.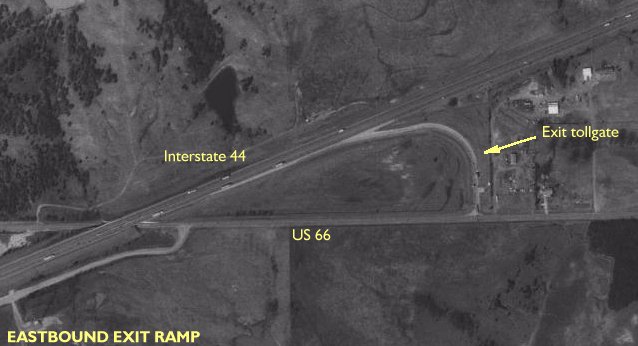 This is the counterpart to the McDonalds Exit for eastbound I-44 traffic about half a mile to the east. This provides an exit only. Confused yet? No problem, just print out this table and tape to your dashboard.


MOTORISTS GUIDE TO THE WELLSTON I-44 EXITS
Not yet approved by AAA but we're working on it

ORIGIN
DESTINATION
DIRECTIONS
Stillwater/Shawnee
Westbound I-44
Drive on U.S. 66, enter McDonalds back gate into parking lot to join I-44
Stillwater/Shawnee
Eastbound I-44
If nobody's looking: from U.S. 66 go backwards up turnpike ramp to join I-44, otherwise drive 10 miles to Chandler on OK 66 to join I-44
Westbound I-44
Stillwater/Shawnee
Exit at McDonalds, exit out parking lot back gate, go east on OK 66 to join U.S. 177
Eastbound I-44
Stillwater/Shawnee
Take unmarked exit near Wellston, go east on OK 66 to join U.S. 177
Comments from the engineer: You bet I designed this. Whatever funding plan Oklahoma signed into law gave us $2100 to build this thing. You can't find many construction companies that can do such a fine job on that kind of cash. In fact we managed to blacktop it with used oil from the QuickLube in Tulsa. Say, all this talk of McDonalds has got me craving a Big Mac... wanna jump in the pickup and go get one?
-- Bob Classen
---


Send comments to tim@weathergraphics.com!









Return to main page