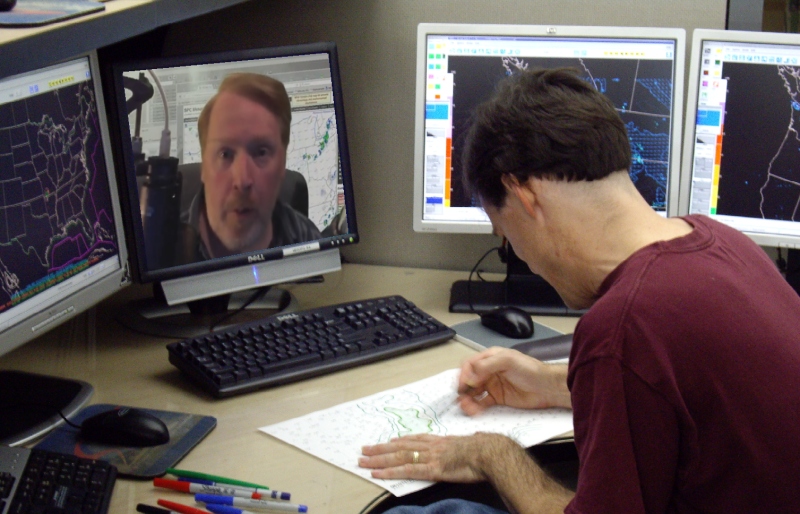 Forecaster
Training
via Skype!
Services

UPDATED JULY 2017 —

Tim Vasquez offers personalized training via Skype video chat (link to Skype download). This allows students to get all the benefits of the 100+ Forecast School courses we have done, and allows you to ask questions, show charts, and go over products.

You may choose a structured or an unstructured format, and change your preferences at any time during training. With structured courses you get one of the Forecast School lessons that were conducted in Norman, Oklahoma between 2001 and 2013, and you may request specific elements of that course. Unstructured lessons draw from current weather or historical weather situations, and we go over the weather using dozens of available tools. Unstructured lessons are the most popular with our Skype students.
Rates

The rates are as follows:

Half hour - $65 — Purchase

One hour - $95 — Purchase

Four hours - $350 — Purchase

Purchased time does not need to be used all at once, and may be split across multiple times or dates. Forecast School via Skype is considered a private session and may not be posted online or distributed.

Availability

Training sessions are generally available 7 days a week, afternoons and evenings between 11 am and 2 am, except for 7 pm to 9 pm which is not available. About 24-48 hours notice is normally required. To schedule training time, purchase a block of training time above and then contact Tim Vasquez at the email address below.

For no-shows we will allow the time to be rescheduled up to three times.
Contact



We normally reply within 24-48 hours unless there is a heavy workload.
About Tim Vasquez

Tim Vasquez is among the top experts on severe weather forecasting and is an accomplished author and programmer. Tim was mentored by the late Alan Moller, part of the first generation of storm forecasters, as well as famous chaser Tim Marshall. As an Air Force meteorologist he provided weather support for the F-117A Stealth Fighter program in Nevada, for United Nations Command Korea, for Operation Support Hope in Rwanda in 1994, and for B-1B Lancer operations at Dyess AFB, Texas. At Dyess and in Korea he was responsible for training and certifying all incoming meteorologists. He completed WSR-88D doppler radar training by the NEXRAD manufacturer and holds certification from Unisys. His books, including Weather Analysis & Forecasting, Weather Map Handbook, and Storm Chasing Handbook continue to be popular titles.