This is the main panel for ClimaSim, showing all the major controls that are used to run the simulations.
The terrestrial and solar settings panel allows you to make extensive changes to the chemistry of the atmosphere, the radiation from the sun, and a number of interactions governing heat exchange between air, land, sea, and ice.
You can even change elements outside of the earth's atmosphere. For example, Earth's orbit is not circular but is elliptical, reaching its closest approach to the sun around January 3 and its furthest distance on July 4. This is quite a substantial change, because this elliptical orbit causes irradiation from the sun to vary by 6.9% in a single year. In Clima-Sim, you can change not only the parameters of the Earth's rotation but also the tilt of the Earth's axis. All of these have changed significantly over the past few billion years.
Here is a run showing maximum daily temperatures in July using a Cretaceous ("last of the dinosaurs") atmosphere. Of course due to continental drift the continents were not actually in the configuration shown here, but this can be easily customized before a model run. Given the current layout of landmasses, a Cretaceous atmosphere yields temperatures that are at least a few degrees higher than modern-day July readings in most places. Note that detailed worldwide geography has been overlaid.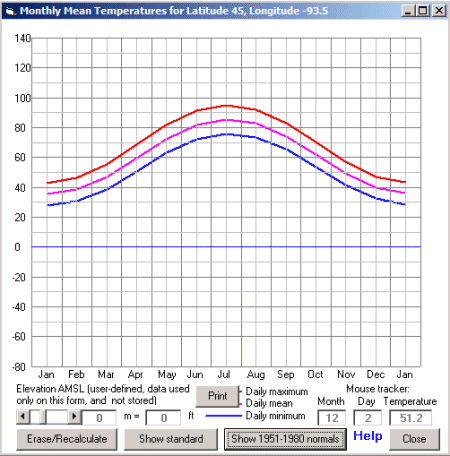 Annual temperature graph for Minneapolis, Minnesota using the above Cretaceous atmosphere (again, landmasses were not laid out anything close to what they are now, so this is purely a hypothetical scenario). The red line shows daily maximum temperature, the blue line daily minimum temperature, and the magenta line the daily mean. A low of 28 degrees during January sounds more like Memphis than Minneapolis.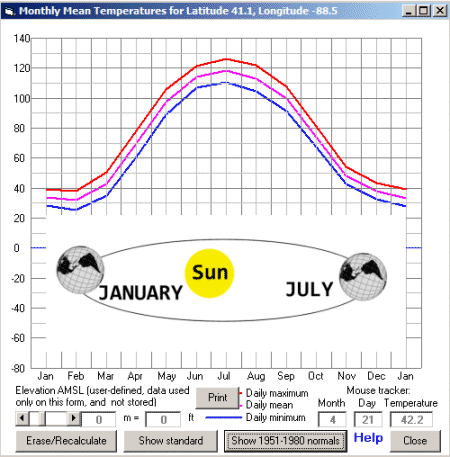 In this example, we have taken the 2010 atmosphere and simply tilted the Earth's axis from 23 to 72 degrees, and plotted the graph of annual temperatures for Chicago, Illinois. In July, the northern hemisphere faces the sun almost head-on, resulting in a tremendous warmup and sending Chicago spiralling up to 125 degrees every day. Needless to say, January obliterates the Antarctic ice sheet, but the massive specific heat of the ocean helps keep temperatures over the Antarctic Ocean in the 90s. Interestingly, shifting the Earth's tilt to a simple zero degrees, removing all seasons except for the effects of perihelion and aphelion, sends worldwide temperatures close to their fall and spring normal temperatures, with temperatures close to the poles having a much colder annual mean as long wave radiation into space becomes the dominant process year-round.