A pretty quiet travel day. We left Whitecourt at 10:30 am, stopping for gas and a few small items for breakfast, then pressed northwest. It was mostly cloudy and cool (50s), and approaching Valleyview we passed under some showers. About 50 miles later the sun came out again.
We stopped at 1 pm at the Wendy's in Grande Prairie (no difference from the American Wendy's except prices; i.e. the 99-cent value meals are $1.39 in metric money). We then stopped at Wal-Mart to find a coat for Shannon. I also discovered something that I had suspected from Canadian TV advertising -- you can buy CLARITIN AND ALLEGRA OVER THE COUNTER, and for 30 cents a dose, compared to America where you can only get it by prescription and for $2.50 to $10 a dose, thanks to the greed-inspired American pharmaceutical system.
A strong west wind had picked up, with temperatures only near 60. We continued west, stopping at the British Columbia border at 2:53 pm (1:53 pm PDT, we are now crossing time zones), which was hardly noticeable except for signs and a trash can.
By 2:30 pm we were in Dawson Creek, the start of the Alaska Highway. Dawson Creek is set among rolling farmland and green pastures, and has a prominent marker downtown which signifies "Mile 0" of the Alaskan Highway. We also stopped at the Kiskatin River bridge, which spanned a 200-foot gorge.
Once we passed the sprawling, ugly town of Ft St John, we appeared to truly be on the Alaskan Highway. Traffic gradually died away; a southbound vehicle passed by only every minute or two, and the two-lane highway wound up hills, through taiga forests, and across beautiful meadows. The wind continued to buffet the car, making it a little challenging to steer. We continued north over 200 miles through very remote countryside, occasionally spotting a moose, elk, or wolf along the road, and with very little traffic. The road was better than many highways in Texas or Oklahoma, with a smooth surface and a broad shoulder. Southbound traffic eventually died to 1 car every 5 to 10 minutes. The scenery was fantastic and we began seeing the Rockies return, with snowcapped peaks about 40 miles to our west.
We finally called it a day, a bit early, and pulled into Fort Nelson (latitude 58.5 north) around 8:00 pm, had a great dinner at Dan's Neighborhood Pub, a bar/bistro (Shannon fish+chips, me a patty melt). We settled in at a decent room at the Provincial Motel, comfortable though the top blanket reeked of feminine hygiene products, the toilet leaked, and everything in the room had a damp, moldy feel.

Tomorrow we will make it to the Yukon Territories, and hope to settle in at either Whitehorse or Haines Junction by evening.


Miles driven today: 553
Gas: stops at Whitecourt and Dawson Creek
Expenses: stop at Wal-Mart at Grande Prairie, Alta
Business ratings (0-4 stars):
Dan's Neighborhood Pub, Fort Nelson BC * * * 1/2 (great atmosphere)
Provincial Motel, Fort Nelson BC * * (somewhat dirty)


< Back
Main Page
Forward >

Valleyview, AB -- cold weather, clouds, and light rain plague the first couple of hours of our drive.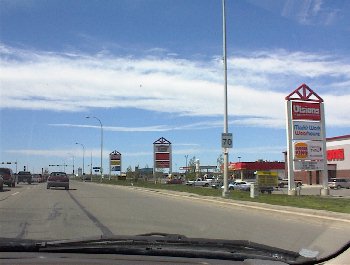 Grande Prairie, AB -- just finished eating at Wendy's, and we're now heading over to the Wal-Mart to get a coat. The weather has really improved.

Dawson Creek, BC -- the start of the zero-mile marker for the Alaska Highway!

Ft St John, BC -- a photo opportunity awaits us near the Kiskatin River. The self-timer on the digital camera was an enormous help for shots like these.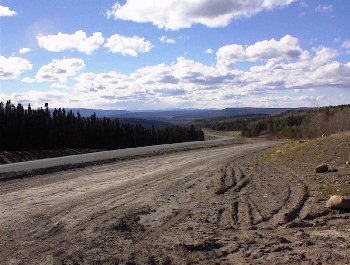 Wonowon, BC -- next services 150 miles. Long, long stretches of highway were now ahead of us. Good thing I threw out the donut tire and brought along a real spare tire.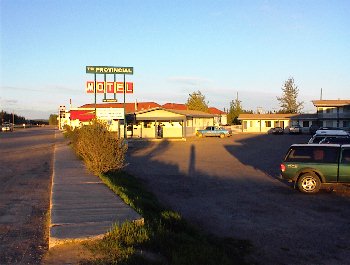 Fort Nelson, BC -- the Provincial Motel, which would have been a great motel if not for the damp (dirty?) sheets and the leaking toilet.