I finally experienced my first effect of being so far north. I woke up and saw the room lit up with morning illumination, then looked at the clock, which said 3:27 am! I went back to sleep, then woke up again with bright light in the room and turned to look at the clock. It said 5:25 am -- Shannon had also woke up; we looked at each other in disbelief and went back to sleep.
We finally got up around 8 am, getting ready and packing then driving over to PetroCanada for gas and then to the post office so Shannon could mail a few postcards. The morning was clear, cold (near 45), and very windy.
We were then on the road westward, which almost immediately became a road into remote wilderness. About 15 miles out of town we stopped to look at Highway 7, an empty dirt/gravel road that led 200 miles north to the Northwest Territories. We drove up it for about a mile, then returned to the Alaska Highway and headed west, our goal for now being lunch 250 miles away in Watson Lake YT.
Traffic was extremely sparse, and the road began winding through some spectacular snowcapped mountains. However we were now averaging only 45 mph rather than 60 mph. A breathtaking overlook was Summit Lake Pass, which gave us a birds-eye view southward across the Racing River Valley. Another great stop was Muncho Lake, which was partially ice-covered and had large deposits of crystallized "corrugated ice" along its banks. Around here we saw some moose, caribou, and Dall sheep. The sheep let us get quite close to them, as they nibbled under rocks for plants or perhaps moss.
The road then exited the mountains and widened, 60 mph was again easily possible, and the road then led through a series of large semi-forested hills.
North of Fort Liard we saw our first bear, a large black bear who was foraging along the road on his way down to the nearby river. The bear came within 10 feet of our parked car, looking us over briefly, enough for us to get some video and a few photos. He then went behind our car and crossed the road. Our first bear encounter!
Around 3:30 pm we crossed the Yukon border at Contact Creek briefly about 3 times, as the road paralleled the border (totally unmarked because of ongoing construction), then at 4 pm we finally crossed into Yukon "for real" and within 15 minutes arrived in Watson Lake. Here we stopped for gas and visited the Watson Lake Sign Forest, a park in the middle of the small town with thousands and thousands of distance signs posted by tourists. We then ate at the small Gateway Hotel's restaurant. The calzones were great and the service was excellent, though the clientele consisted of two old couples who hardly spoke to each other at all (creepy; we saw this in Calgary too). The waitresses, on the other hand were, around 18 and lively; we were amused overhearing their gossip and jokes.
By 5:30 pm we were on our way again, hoping to make Whitehorse (250 miles away) or possibly Haines Junction. For the first 30 miles westward the road was mostly gravel; our windshield was dinged slightly by gravel tossed up under an oncoming pickup truck. After 50 miles the highway was once again in great shape and led back into the snowcapped mountains. Traffic again was very sparse.
West of Rancheria we saw a large grizzly bear foraging in the clearing near the highway. Shannon took about three minutes of video. We then continued west across the Continental Divide (unfortunately the sign appeared to be 400 feet from where the divide really was). The trip continued for about another three hours, and we saw two and later one person on bicycles, well-equipped with provisions for their long journey. We could only wonder how they would deal with the bears alongside the highway.
Around 10 pm we finally arrived in Whitehorse, capital of the Yukon Territories, with plenty of daylight. Whitehorse was a modern, small city with fast food places, a downtown district, an airport, and culture. Whitehorse seemed to be radiating a genuine "warmth", prompting Shannon to joke "Can we move here? Can we move here?" This was by far one of our favorite stops on the trip. Shannon and I briefly explored downtown then got sandwiches to go at Subway. We stopped briefly at the airport to find a decommissioned Douglas DC-3 that was billed the "world's largest windvane". Unfortunately it was no longer on its mounting pole, so we managed to get a few ironic pictures of the monument with the stump on top.
It was 11 pm, and we pressed on to Haines Junction, with sunset behind swirly, cloudy skies and lots of light to read by even past midnight! We reached Haines Junction just before 1 am with light still in the sky and got a room at the Kluane Park Inn (two other motels we liked had no vacancy). The room was fairly nice but small, and since the motel was basically built in a large trailer. Shannon gave the motel a sparkling A+ for good water pressure in the shower ("it was gushing out and felt so good"). I couldn't send out my trip report, however, because there was no phone in the room, and out of respect to our neighbors next door I didn't really like the squeaky floors.

Overall this was a good run on the longest segments of the Alaska Highway. We found that Fort Nelson BC to Haines Junction YT can easily be done in a long day of driving (13-14 hours, of course at a time without many RV's slowing us down). Except for some gravel stretches just west of Watson Lake YT and spotty ones elsewhere, and with narrow windy roads from Summit Lake to Liard River, it's an excellent highway with a good surface and wide shoulders. The trees were also usually cleared 50 feet either side of the highway, making it easy to avoid caribou, deer, and sheep. Traffic was very light, averaging 1 vehicle every 5 minutes passing us southbound. Gas was also in abundant supply, at least every 100 miles for the larger stations. We saw no police cars in the 700 miles from Fort St John BC to Haines Junction YT except in one of the Yukon towns, and in spite of a ridiculously low speed limit of BC 100 km/h (62 mph) and YT 90 km/h (56 mph), with 80 km/h (49 mph) in hilly terrain, most traffic flowed easily at 110 km/h (68 mph) on level stretches.

Tomorrow we will enter Alaska by early afternoon and hope to make Fairbanks by late evening. From then we'll figure out what to do next.


Distance today: 714
Expenses:
Gas: Fort Nelson, Watson Lake, Whitehorse
Business ratings (0-4 stars):
Gateway Hotel Restaurant, Watson Lake YT * * * (good service)
Kluane Park Inn, Haines Junction YT * * * (very creaky floors)


< Back
Main Page
Forward >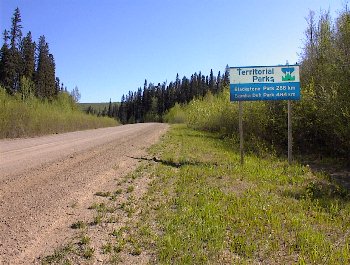 West of Fort Nelson, BC -- the beginning of Highway 7 (the Liard Highway), a long, remote dirt road that went hundreds of miles and into the Northwest Territories before reaching the next village. We dared not go far up this road! The signpost says "Territorial Parks, Blackstone Park 288 km, Samba Deh Park 484 km".

Summit Lake, BC -- the Alaska Highway ascends to about 4,000 ft MSL, passing by this frozen lake. The ice wasn't strong enough to walk on.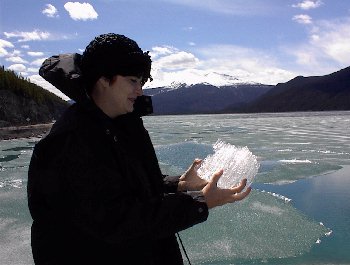 Muncho Lake, BC -- Shannon picks up a piece of strange crystalline ice deposited along the east side of Muncho Lake. We'd never seen ice like this before.

Fort Liard, BC -- a black bear sniffs at a piece of litter while approaching our car.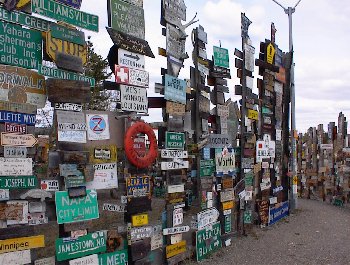 Watson Lake, YT -- our first town in Yukon bears the famous signpost forest, a collection of 40,000 city signs from all over the world.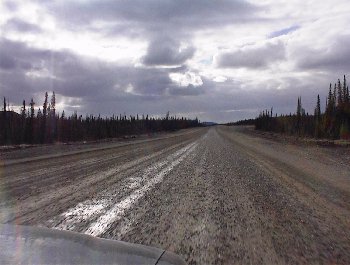 West of Watson Lake, YT -- a gravel stretch of the Alaska Highway. Here my windshield was pitted by gravel tossed up from a passing truck.

Whitehorse, YT -- it's 11:15 pm and still light outside! After grabbing a bite at Subway and looking for the removed DC-3 windvane, Shannon poses here at Whitehorse Airport. In the background is our dirty car.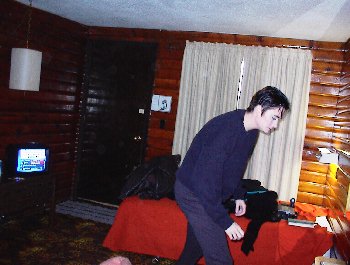 Haines Junction, YT -- settling in at the Kluane Park Inn. Not a bad place, though I had some minor beefs with it.