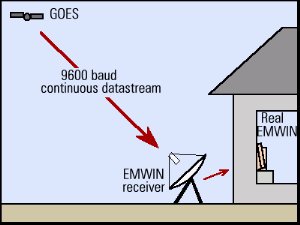 EMWIN is a free datastream that you can capture with any equipment that receives the datastream and feeds it into your computer's serial port.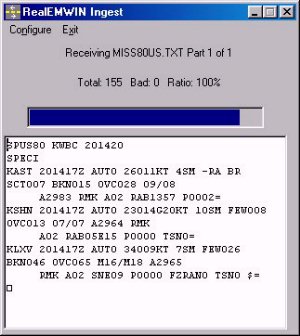 RealEMWIN ingests data from the serial port automatically. You get running totals of how many packets of data have been ingested and whether there are errors.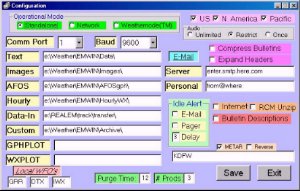 The RealEMWIN configuration panel allows you to set data directories, E-mail notification settings, alarms, and much more.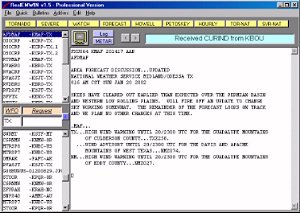 With the RealEMWIN panel you can choose from hundreds of current National Weather Service bulletins, many of which are for your local area. Get the inside scoop with forecast discussions such as you see here.


An intricate product menu allows you to view all the products available by type.


Weather imagery is a snap with RealEMWIN. Just choose from the Image Viewer's menu system.


The National Weather Services broadcasts free, unencrypted weather data via satellite. Not only do you get nearly all the products from nationwide weather service forecast offices (WSFO's), but you also get a nice variety of graphical products that arrive in GIF and JPG format.
Products available range from your local weather conditions and forecast, to severe weather watches and warnings, to satellite and radar graphics, all available within seconds of being transmitted from the National Weather Service. Information is not limited to the United States. Bulletins from Canada, Mexico and many international locations are available.
Watching the products as they come in can be fun and educational, but not time-effective when you are interested in being notified upon receipt of the latest weather information. To solve this, you can go to the "Alarm Settings" menu. RealEMWIN will do the work for you! As products are received they will be compared against your alarm settings and handled appropriately. For E-mail alarms, if you are not connected to the Internet then RealEMWIN will automatically dial up for you (assuming your Internet connection is properly configured.)
The Image Viewer allows you to look at single images, chosen from the main window, or loop up to ten time-lapsed pictures from the Image Menu. If multiple graphics are available, the Loop option will light up and begin cycling through the images. You may start and stop the looping via that menu. Also you can change the delay interval from the "Loop" option.
For occasions where the system will be running without human intervention, a "slideshow" mode is available.
If you're online while running RealEMWIN, you can have the software search the Internet for any data files that weren't received.
If you have your ingest connected to a LAN, other computers can run RealEMWIN just as if the hardware was hooked up right to each computer!
RealEMWIN now interacts with optional free WXPlot which enables dynamic watch and warning mapping.

Note that RealEMWIN requires special hardware to receive the datastream from the National Weather Service. If you don't have the hardware, you can still try out the program, but the data ingest will not work.